The Ministry of Defence of Montenegro and our Embassy's Defence Section, jointly organised a second regional PR conference on "Terrorism and Media".
"Very dynamic changes in the methodology of terrorist actions have made it necessary to find appropriate responses for national security forces in the fight against terrorism," Colonel Mehmedin Tahirović, Head of the Public Relations Department at Defence of Montenegro said, welcoming the participants in the conference, attendees and media representatives from Montenegro and the region.
He pointed out that international cooperation and security and intelligence exchange had become vital to preventing terrorist acts, and that in modern conditions under which we functioned, organisation such as NATO had become the best framework for such actions.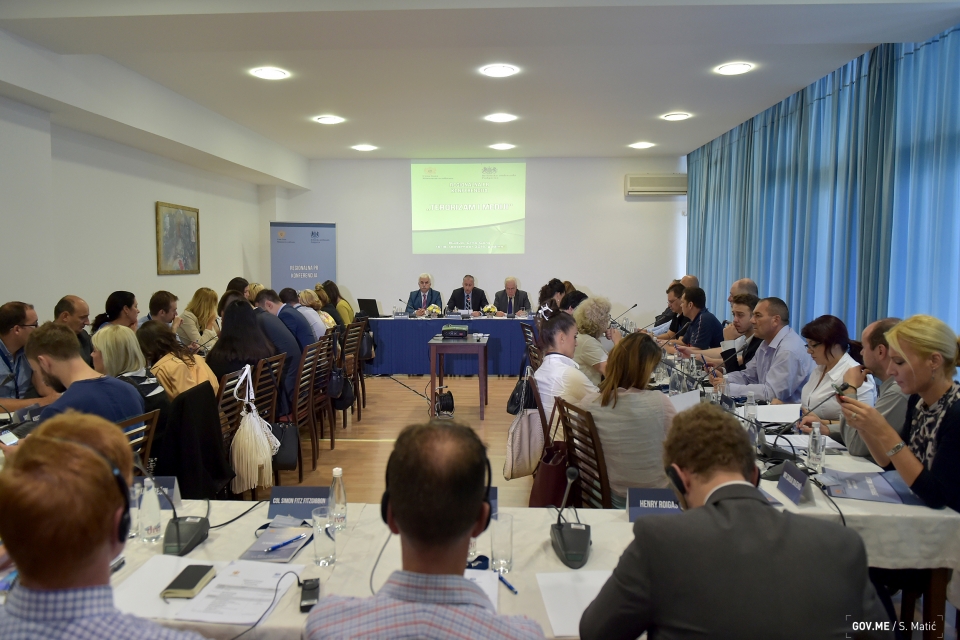 Dr John Mašulović, Director for Defence Policy at the Ministry of Defence stressed that the terrorism was recognised as the greatest global threat of modern life. This threat, according to Mr Mašulović constantly took new forms that were impossible to fight by any one country on its own, regardless of its size and power.
British Ambassador Ian Whitting expressed satisfaction with the level of cooperation the Embassy had with the Ministry of Defence of Montenegro. He emphasised the importance of the topic of this year's conference, adding that this was an ideal opportunity to acquire experience and practice in this area and to take a closer look at current forms of terrorism, as well as the ways in which the media were reporting on this very important topic.
During the first day of the two-day conference, the main themes were modern terrorism, as well as the relationship between the media and terrorism. Dr Anita Perešin, senior adviser to the Croatian National Security Council and visiting professor at the Marshall Centre in Garmisch-Partenkirchen, held a lecture on "Contemporary terrorist threat", while Mr Henri Rikas (Henry Rõigas) analyst at the NATO Cooperative Cyber Defence Centre of Excellence from Tallinn, Estonia, spoke of cyber terrorism.
The discussion on the relationship between terrorism and social media was mediated by Jimmy Leach, the former Head of Digital Communications in the Cabinet Office.
The second regional PR conference gathered about 50 participants from Croatia, Macedonia, Bosnia and Herzegovina, Slovenia, Serbia, Montenegro and the UK, experts in the field of terrorism and media, representatives of state security and military structures, ministries of defence, as well as representatives numerous media from the region and Montenegro.
There was a particular focus on crisis communication, with participants sharing best experience on the topic.
Source: UK & Macedonia